What font does About.com use? The logo About.com uses the Frutiger Next Pro Bold font.
click here to buy About.com logo font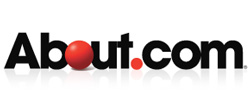 About fonts:
Frutiger Next is Adrian Frutiger's and Linotype's completely new interpretation of the well known typeface, Frutiger.
Free alternative fonts for About.com logo:
The closest free font you can get is Padauk Book Bold Font.
download free fonts for About.com logo

About free fonts:
Created in 2011 by SIL International