What font does Ask.com use? The closest font you can get is Richmond Medium Italic font.
click here to buy Ask.com logo font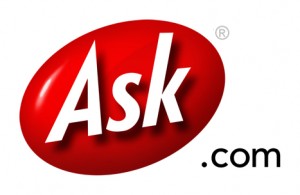 About font:
Richmond is a geometric sans family in the spirit of Dwiggins' Metro, Erbar by Jakob Erbar and the Underground type of Edward Johnston.
Free alternative fonts for Ask.com logo:
The closest free font you can get is Open Sans Bold Italic Font.
download free fonts for Ask.com logo

About free font:
Open Sans is a humanist sans serif typeface designed by Steve Matteson